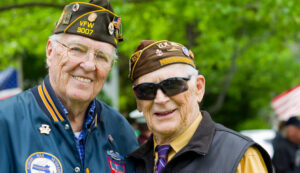 Whenever you or your family looks for veteran home care services in Houston, be sure to contact the Volga Home Care professionals. The goal of our veteran-directed care program is to help Houston's veterans and their spouses connect with senior care resources and services to provide them with the needed help. We are proud to have a network of specialized home care providers, VA home care agents, assisted living facilities, and senior care funding resources. With our VA home-based primary care, we'll help you determine if the veteran or a spouse is eligible for VA Pension. 
Volga Home Care aims to help Houston veterans get the needed vet assistance, in-home care, and Alzheimer's and dementia assistance services. Veteran care providers are dedicated to providing you and your beloved ones with the in-home care services of the highest quality or assisted living. When someone experiences physical limitations due to the injuries received while serving or some age-related issues, Volga Home Care can assist them with every task to ensure they remain safe and live in comfort.  
When you choose our veteran-directed care program in Houston, you may feel certain we will provide you and your loved ones with a personally developed plan of in-home veteran care services to meet your needs and schedule. Whenever your beloved person needs part-time, full-time, or overnight care, you can rely on our help with peace of mind.
Volga Home Care is serving Houston, TX. Give us a call at 713-293-2080 and we will provide you with the qualified assistance whenever needed. Get in touch with us for more details on our services. Let us provide you and your beloved of the care that you deserve.