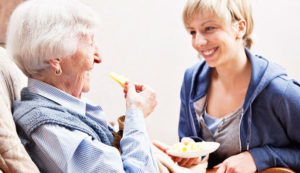 Volga Home Care provides respite care services. When our loved ones need help, our first intention is to provide the needed help by ourselves. However, taking care of aging seniors or caring ill or disabled family members can be stressful and painful for a person who is not ready to handle such a responsibility.
When proving care-giving services, it's important not to burn out. At Volga Home Care, we have a professionally trained team of caregivers who know how to balance the needs of the individual with their own. Using our respite care giving services, you can request temporary help for as long you need. This can be days, weeks, months… Our professionally trained team is ready to share years of experience of working with families like yours. We will help you provide your loved ones and aging seniors with the proper help when you stay at home alone with them.
Our services include helping with bathing, food prep, transportation, light housework, and more. Additionally, our staff will provide companionship during mealtimes, as well as a friend with whom our clients can share their favorite activities.
Volga Home Care is serving Houston, TX. Give us a call at 713-293-2080 and we will provide you with the qualified assistance whenever needed. Get in touch with us for more details on our services. Let us provide you and your beloved of the care that you deserve.