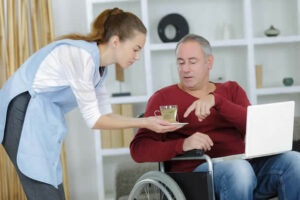 At Volga Home Care, we have a well-trained team that can provide comfort and companionship to your beloved ones. We know that nothing in the whole world can be better than love and care of the nearest people. But, we can make sure that your loved one is well taken care of when you are not at home. We provide both short-term and long-term care. You may order the disability care services that meet your needs perfectly well.
As part of the disability care services, our staff will help your beloved with everyday things like bathing, using bathroom, meal preparation, eating, laundry, paperwork, etc. You can also order the respite care service, which is so much needed for family members who need a break from their caregiving role.
We help adults and aging seniors with disabilities and their families face daily challenges by providing expert support and in-home care. We'll help you and your family focus on finding the joy in every day, while providing your loved ones with the independence they need.
Volga Home Care is serving Houston, TX. Give us a call at 713-293-2080 and we will provide you with the qualified assistance whenever needed. Get in touch with us for more details on our services. Let us provide you and your beloved of the care that you deserve.