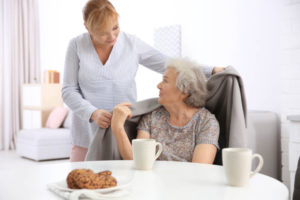 Volga Home Care provides exceptional in-home care, veterans and aging seniors assistance, transportation, and other caregiving services that you or your beloved ones may require. We are proud to have an expert team of well-trained caregiving professionals that will help your family members feel the needed independence and stay in their homes for as long as safely possible.
Our main goal is to enrich the life of every client while taking care of their safety and comfort. Regardless of their age or disease, we deliver a personalized approach to maintaining the habitual lifestyle for each individual.
All caregivers from Volga Home Care are experts with many years of experience in working with aging seniors and people that need special treatment. We know how to find the right approach to every client and how to establish communication with their families. Our staff builds friendly relationships with every client to deliver the proper treatment, fulfilling their emotional and social needs.
We understand the difficulties that families may face. We are here to help you alleviate this stress and provide in-home care services that your beloved people need.
Volga Home Care is serving Houston, TX. Give us a call at 713-293-2080 and we will provide you with the qualified assistance whenever needed. Get in touch with us for more details on our services. Let us provide you and your beloved of the care that you deserve!