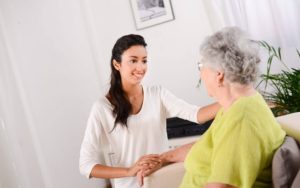 When our loved ones grow older or experience any kind of disability, we want to make their lives as simple as possible and provide them with any sort of help they might need. At Volga Home Care, we offer Personal Assistance Service for people with disabilities and seniors who want to live independently but need someone to help manage their everyday living activities. Our professional personal assistants are trained to provide a wide range of services to individuals in their own homes. Volga Home Care assistants make individual care plans, so that each person is provided with the personalized care they need daily.
Personal assistants are skilled to provide a variety of services such as:
Bathing

Dressing

Grooming

Meal Preparation

Cleaning

Shopping

Laundry

Medication

Ambulation

Exercise
Besides providing personal care, Volga Home Care personal assistants help with household duties. Knowing that the essential housekeeping chores have been taken care of gives people the satisfaction and peace of mind. Our Volga staff also take care of scheduling medication intake and running doctor appointments. 
Emotional support is just as essential as personal care services that Volga Home Care personal assistants provide clients and their families. Our personal assistants provide the companionship many people require. Furthermore, our qualified and compassionate personal assistants have a way of developing an amiable relationship and building trust with people who need their services.
When hiring Volga Home Care personal assistants, you can rest assured that your beloved will be provided with the best possible care. You can have a peace of mind knowing that your relatives are in good hands. Contact us for more information.