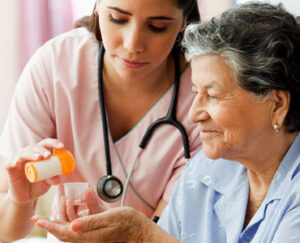 Elderly people may be unable to take care of themselves because of their age or illnesses. Home health aide services delivered by expertly-trained staff can improve the quality of the patients' life. Proper and reliable assistance delivered by home health aide caregivers helps elderly patients with medical equipment, changing dressings or bandages, etc.
At Volga Home Care, our experienced staff delivers all the needed home health aide services, including: 
Personal care services. Our team provides patients with a number of services that people cannot perform by themselves. It includes skincare, grooming, bathing toileting, wound care, transportation, meal preparation, and other personal care services. 
Providing medical assistance with Therapy HEP. The service includes medication, patient assistance, and support. Our staff helps patients fight viruses and recover soon. 
Self-medication assistance. Our team helps patients take pills, buy pills when a patient starts running out of them, and ensure that a patient will have everything needed. 
You may feel be worried about the person recovering after surgery and may be weak and forgetful. Whatever the well-being of your loved one – at Volga Home Care we have a team of professional caregivers ready to provide proper assistance to people who need it the most. We provide personalized help to ensure every patient feels happy and independent at home.