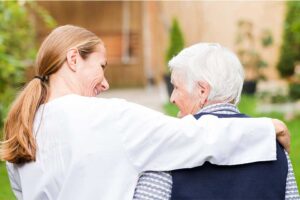 If you need to take care of a loved one who has dementia, you should know how challenging it can be. Elderly adults with memory-related difficulties may experience mood swings, cognitive decline, personality changes, and other health problems. Dementia is a progressive disorder, and it may be difficult to manage its symptoms. As soon as you come up with the treatment for one symptom, another one comes up soon.
Caring for a loved one with dementia is both physically and emotionally taxing. If your family needs a professional for a loved one, Dementia Caregiving by Volga staff should come in handy for you. We can provide the support your family needs. We cover the area in Houston, TX.
Some of the methods our agency can provide for your loved one include:
Reminders to take prescription medication;

Fall prevention measures;

Walking aid;

Dressing, grooming, and bathing assistance;

Running errands;

Household organization;

Providing companionship and social care.

At Volga Home Care, we want to make dementia treatment stress-free for you and your family. You can choose the best time for the dementia care coordinator to come to your loved one's home and discuss the dementia care options. Our team can provide you with all the needed services at any time needed so that your loved ones will always have access to the needed support.