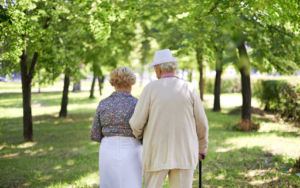 Summer brings warm weather and a vacation mood. During this time, it may be difficult to determine which activities for seniors are safe. That's why we have come up with the following list of top summer activities for seniors that your loved ones can enjoy doing during the warmest season of the year.
Swimming is one of the best activities for seniors who want to beat summer hits and stay fit. Water-based activities are low-impact and will especially fit individuals with arthritis or stiff joints. 
Putting a puzzle together is one of the best ways to prevent boredom and boost your mood. The activity also helps seniors improve their concentration skills and build their cognitive reserve. 
Walking is one of the easiest yet most effective activities that help seniors improve their mobility and strengthen their bones.
Arts and crafts are fun activities that let one create something to be broad of. Sewing can stimulate the senses, boost mood, and trigger positive emotions. 
Gardening is one of the best activities for those who enjoy spending time outside and are not afraid of getting their hands dirty. 

The entire Volga Home Care team is experienced in delivering services for seniors at the top level of quality. If you or your beloved person needs professional care in Houston, TX, we are always ready to come for help.