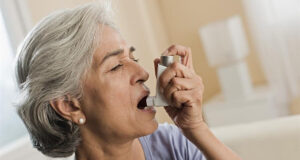 The number of people with asthma increases every year. The disease causes a lot of stress to individuals, their relatives, and friends. A person with asthma never knows when the next attack will strike. As a rule, it comes from nowhere and may have severe results. However, there are some major caregiving tips that relatives and loved ones of seniors with asthma should remember to improve the health condition of such patients. 
First of all, it's vital to get an accurate asthma diagnosis. Taking the wrong medications can bring bad results. To ensure the senior patient takes the right pills, go and visit the allergist to come up with the right treatment. 

By learning more about asthma you can provide your loved person with the right support. There are many organizations providing detailed information to support both patients and caregivers. 

Visit an asthma specialist for a personal consultation, especially if you notice the asthma patient isn't getting better by taking the prescribed treatment. It's likely that you may need a different action plan. 

If you rely on the homecare help of professional caregivers, provider them with the details concerning the medications your loved one is taking. 

Keep a record of your loved one's asthma history and ensure the senior patient doesn't skip appointments with the doctor. 

While providing home care services to patients with asthma it's important to realize that asthma attacks cannot be controlled. However, by relying on the professional caregivers' services you can make your loved person safe and properly treated whenever a new attack occurs.